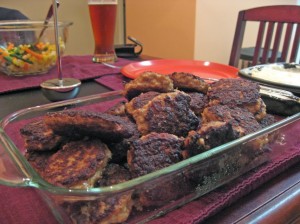 I've made Danish Meatballs (also known as "Frikadeller") a couple of times since I moved to North Carolina, and I have recived a couple of requests for the recipe. I figured I'd put it up here to help spread the gospel of "fine" Danish cuisine in America. This recipe is based on the recipe found here (in Danish).
Ingredients
Attention: The internal data of table "2" is corrupted!
Step-by-step Instructions
Mix the pork with the salt and let it sit for a couple of minutes. This will improve the meat's ability to absorb the milk.
Grate the onion.
Mix all the ingredients and stir thoroughly. Hold back some of the milk and flour, this can be used to tweak the consistency of the mix. If you use fatty or recently defrosted meat you should probably use a little less milk.
Heat a skillet over medium heat, and use plenty of oil or butter. Use a teaspoon or a tablespoon (depending on the size you want) to form the meatballs in the palm of your hand, and put them on the pan in a circular pattern (so you can remember which order you put them down). They will need a few minutes on each side, depending on their size.